Dear Shipping-Companies and Ship Brokers,
The GTS FINNJET is one of the most famous passenger- and carferries in the world. For 28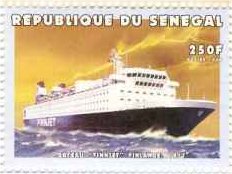 years the ship has been sailing in the same waters. Strong marketing over all these years and a fascination caused by the simple elegance, unique technique and of course her amazing speed of over 30 knots have made her astonishingly well known in Finland and Germany and also led to the creation of this website. This chapter in the life of this legendary vessel has ended in 2005 mainly due to a bad financial situation of her operators and owners. Now the ship is for sale! Now YOU have the unique chance to get a legend into your fleet and SAVE FINNJET! Let me give you a few good reasons to save GTS FINNJET:
Built at the world-famous finnish Wärtsilä Helsinki shipyard in 1977 as a high-tech vessel, FINNJET is a very high quality ship specially built for demanding operations like high-speed long distance service, fast turnaround times and high reliability in difficult weather conditions (storm/ice). Ice-class 1A SUPER stands for a specially strong construction and engines. Due to the special long and narrow shape of the ship's hull, it offers not only an easy achivable high-speed but also a very high stability compared to similar sized ships. This led to the observation of many people that Finnjet acts excellently in rough seas
Steady investments in technical equipment and interior spaces have kept the ship in a very good condition in every matter. The last major 15m EUR refurbishment was not even 1,5 years ago. The current state of the art interior design of the ship was planned by the world-famous architect's office Partner-Ship-Design.
Even with her length of 215m FINNJET still is an easily maneuverable ship. Strong and big rudders (built in 2004!), a stern thruster and two strong bow thrusters combined with the flexible gas turbine propulsion make it possible for this ship to navigate also in difficult and narrow waters and harbours (like St. Petersburg!)
You take over a very easily marketable and highly popular ship - From the beginning until today, FINNJET had lots of regular passengers and fans that couldn't wait to take a trip with the ship. If you CAN market a ship like this as yours, you should do it! If your guests know and feel like on a special ship, they will much more easily enjoy their trip and of course they will also more likely tell their experience to friends, familiy etc. opening more opportunities. Verbal propaganda is the best marketing you can have, which other ferry at this price makes life so easy for you?
When it comes to facts Finnjet is a cruise ferry that will transport your passengers and cargo from one point to the other at comfort. It offers a cardeck for almost 400 passenger cars (different loading options with trailers etc. available) and around 1.600 passenger berths from the luxury Commodore cabin to the simple lounge chair. Every passenger's pocket can afford a suitable accomodation on board. Various bars, restaurants, shops, lounges and much more interiors make your passengers enjoy the time on board, either as a minicruise or as simple crossing
All this costs you only

18 Million USD

,

since that is the price SeaContainers currently asks for.
Why is an amazing ship like FINNJET available at such a low cost? The explaination is simple: NO compareable ship of similar age exists, compared to other 28-year old passenger-ships Finnjet is just up to date! Few ship brokers and operators consider this. Of course also Finnjet's gas turbines play an important role, because operators are afraid the ship cannot be run economically with them. Anyway here are ways to solve the problem:
Finnjet does also have plain Diesel engines! They will give you 18 knots speed at about the same cost compareable ships would have with only Diesel engine propulsion
The gas-turbines currently installed on the Finnjet are from the 70s! An investment in new turbines could be a remunerative option: The engine room was specially built for an easy exchange of the old turbines, anyway it was never realized. Compared to the current turbines, newer models save easily 20% fuel
Probably more expensive but even more economical are new Diesel engines. Plans of Seacontainers prove that it is possible to extend the ship's Diesel power to allow the ship to go at a service speed of 24 knots.
Any of these measures helps to minimize the MAIN problem of the ship: Fuel consumption. However, the ship IS good and - because of the fuel problem - cheaply available. An additional investment in one of the upper options is a clever way of helping the ship to become a success-story more easily also in your fleet!
Last but not least I still want to express my and my website's support for any possible future operator of this ship, as long as they keep up the spirit of this famous "lady".
I hope I could at least reduce some of the usual prejudices against this special ship. For further information on the ship you can explore my website, drop a mail or contact Silja Oy AB/SeaContainers Ltd. directly. Why am I doing this? Because I love the ship as many others also do and I'm sure this ship is by far not yet ready for the Red Sea or India... I know that there are people reading my site who do have the ability to SAVE FINNJET! I count on you!
Best Regards,
Mathias Saken
Webmaster FINNJETweb.com
PS: Quoting a site visitor, "please don't change her name - that's history". I'm anyway sure, at least in the case of Fjordline, GTS Fjordjet would be also fine ;-)